5 day Horseback Riding Vacation
across continental divide in Costa Rica
Costa Rica it is one of the most biologically diverse countries in the world - a treasure house of flora and fauna unequaled in so small an area.

Casual tourist and dedicated nature traveler alike come under the spell of a nature wonderland studded with tropical forest, rushing rivers, exotic animals, un-crowded beaches, high mountains, and awesome volcanoes.

Our horseback riding adventure tour starts in the mountains from the Pacific Slope -in the village Sta. Elena in Monteverde's Cloud forest- across the continental divide to the Caribbean side with the famous lake Arenal with breathtaking views of the Arenal Volcano.

Pick your own departure date and pack your bags for a spectacular Costa Rica adventure on horseback.

We start ...

day 1: Monteverde to La Sierra / Las Juntas

...early morning in the village of Sta. Elena. The horseback ride will be with stunning views to the Gulf of Nicoya and Puntarenas. As we come further down we ride along a stream with dry forest and see many different birds and hundreds of butterflies, this is my favorite part on this ride today. There are always changes to jump across a fallen tree or cross the stream. We stay in the Balneario "Pueblo antigua" cerca del museo "Las MInas" in Sierra / Las Juntas with swimming pool and 2 hot spring pools and restaurant, a real relaxing treat after this first ride.
day 2: Las Juntas to Solania

In the morning we start in the low land of Las Juntas along the valley and some streams. Soon we climb again in the mountains and get beautiful views of the Peninsula Nicoya in the distance. We see Cerro de San Josť, a stunning unique mountain peak. In the end of the day we reach Solania, a little village in the dry mountain area of Tilaran. We stay in nice comfortable cabins at Solania Lodge, a finca with 150 ha land and all facilities you can think of.
day 3: Solania

You spend the day visiting the waterfalls or climb the mountains in the 150 ha finca by foot or by horseback, play Volleyball, football or you simply enjoy the day in the swimming pool or at the terrace bar with views to the mountains or in the distance to the Gulf of Nicoya.

day 4: Solania To Rio Chiquito

We start going down in the Valley of Rio Canas, that we go all the way up along this river across the continental divide to the Caribbean side in Costa Rica. This time we see Cerro de San Josť from the north. Soon there appears the famous Arenal Volcano in the distance, before we go down to the lake Arenal and end this day in Rio Chiquito or:
alternative to the night in Rio Chiquito it is possible to go across the lake Arenal by speedboat (20min.) to see the lava flow of the Arenal Volcano by night and spend some time in the famous hot springs of Tabacon. You spend the night at the foot of Arenal Volcano and come back to Rio Chiquito next morning by speed boat again. We recommend to do this, because this is a unique change to get to La Fortuna easily and the Arenal volcano is certainly something not to miss out in a travel to Costa Rica.
day 5: Rio Chiquito to Monteverde

This day we ride on real mountain trails trough farmland and forest, that is lush green with peeks of Arenal Volcano here and there until we reach Mirador (viewpoint) de San Gerardo. The last part of our tour is going down to the village of Santa Elena, where you spend the night and may be a few more days to explore the activities like Sky Trek or the Reserves of the Cloud Forest of Monteverde.
WHEN: This individual horseback riding tour can be set up any time that suites you in your vacation. Recommended travel time for Costa Rica is December to August, very best January to April. We will need at least 2 people. The group will not be larger than 6 riders.
MEETING POINT: Finca de Sabine - 2 km below the village of Monteverde. Coming to Monteverde we can arrange a pick up in San Josť at the Airport or any other place of your holiday in Costa Rica. The pick up in San Josť to Monteverde by taxi, about (3 hours) cost $ 160 US, shared by the people that come together. You can also come by bus in 5 hours cost $ 6 US p. P.
RIDING CONCERNS: This tour enquires horseback riding experience, since there is 4 days riding about 4 - 7 hours a day. Since most of the horseback riding will be in the mountains, the riding will necessarily be at a slow pace with some moderate trotting and galloping in valleys. Riders who cannot control their horse at the canter and do 10 to 20 minutes trots will not enjoy this ride. Dismounting and walking with horse will be required in very few locations. Weight limit 90 kg.
HORSES: Costa Rica horses are Criollos and we ride Costa Rica saddles. Our horses are extremely well trained, have very good condition and get all health and nutrition care you can think off.
PRICES: This 5 day adventure tour on horseback, including horses, guide, all meals, comfortable accommodation and luggage transfer cost $ 1250 US p. P. (beverages not included).
The alternative visit Arenal Volcano and the hot springs cost an additional $ 150 US p. P. If there is 4 people the cost drop. Ask for pricing. including Arenal Volcano Tour, entrance at Tabacon, speedboat and taxi transportation.
LOCATION: See a detailed Horseback Vacation map.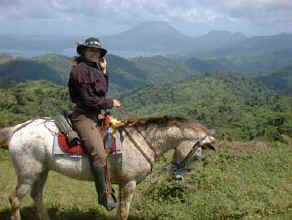 make your reservation for this adventure horseback riding vacation tour or
Depending on interest and experience we offer the 2 hour campesino tour at $ 45 US or day ride for $ 125 US per person.
info@horseback-riding-tour.com
Cell/WhatsApp: +506-83852424 contact us


all photos and web content copyright horseback-riding-tour.com 2019